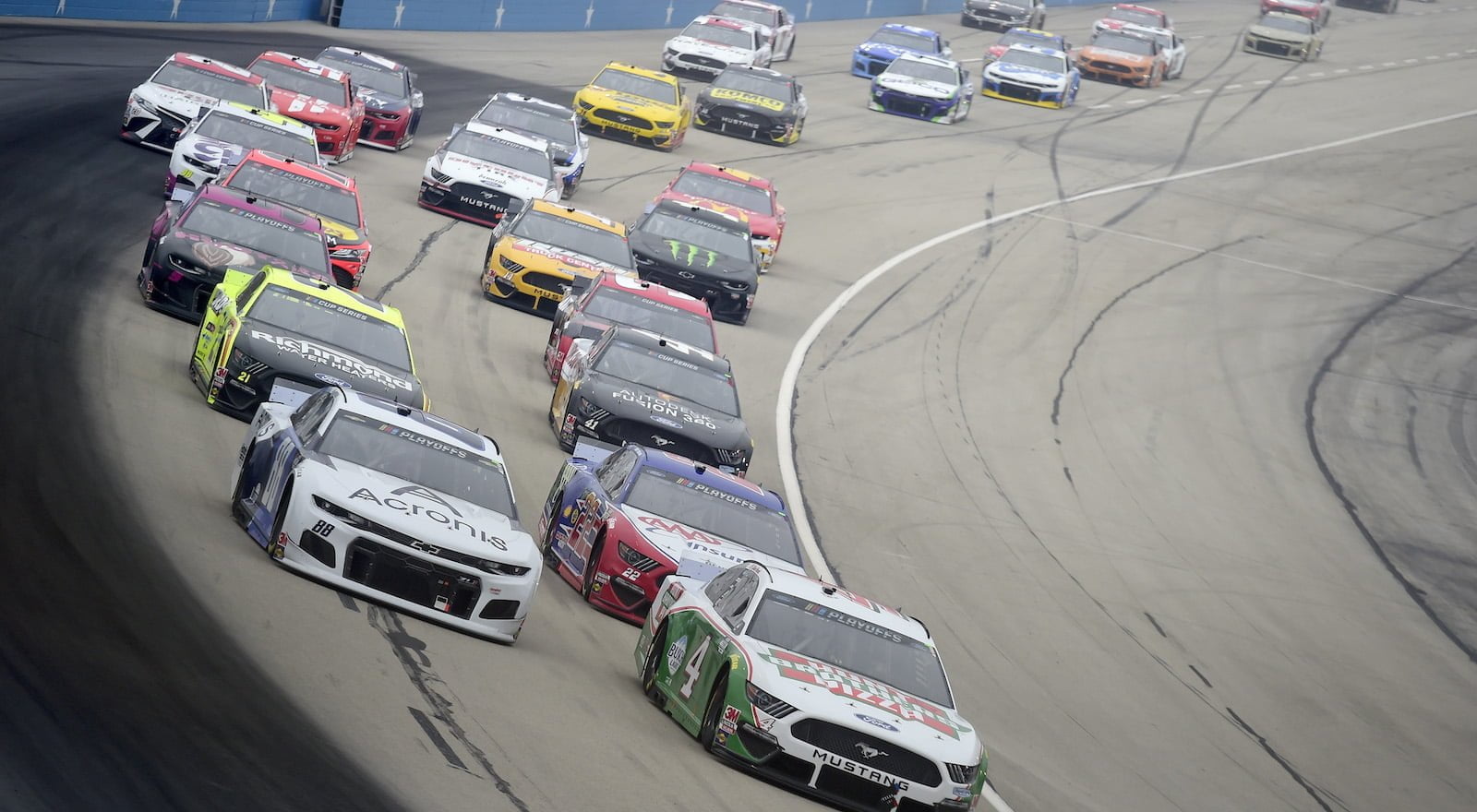 A persistent mist at Texas Motor Speedway near Fort Worth that resulted in a halt of the AutoTrader EchoPark Automotive 500 after the completion of 52 laps Sunday and kept the NASCAR Cup Series from resuming the race Monday. That mist continued throughout the day Tuesday, pushing the delay to, at least, Wednesday. NASCAR plans to continue attempting to get the race, the second of the three-race 2020 playoff round of eight, at 2 p.m. local [3 p.m. ET] Wednesday.
The mist stopped long enough Tuesday evening that track-drying efforts looked promising, prompting NASCAR to anticipate a 7:30 p.m. resumption of the race. But as the anticipated restart time neared, the mist returned, once again hindering track-drying efforts.
More rain is expected early Wednesday, but the afternoon forecast looks more favorable for racing.
The race started on schedule Sunday. The race went under caution for the third time because of the mist on lap 43 with Alex Bowman as the race leader. But pit stops were completed before the race was red-flagged nine laps later, and Clint Bowyer got off pit road first to be the leader when racing resumes. Pit strategies varied, and Bowman lost multiple positions with a four-tire stop.
Kevin Harvick dominated the early laps after starting on the pole, but when NASCAR kept the race under green for several laps after the misting began, Harvick slid of the track and hit the wall, necessitating an unscheduled green-flag pit stop by lap 34.
"It just went straight. Unfortunately, we were the first one to the damp PJ1 (traction compound)," Harvick said in PRN interview during the racing delay. "That's the downside to it. Once it's wet, it's like ice. I couldn't get out of the gas and couldn't do anything but go straight. It had okay speed still, so work on it and figure it out"
Denny Hamlin also nearly wrecked in the same area of the race track as Harvick. When the race resumes, Harvick will restart 36th, a lap down. Hamlin will restart 15th.