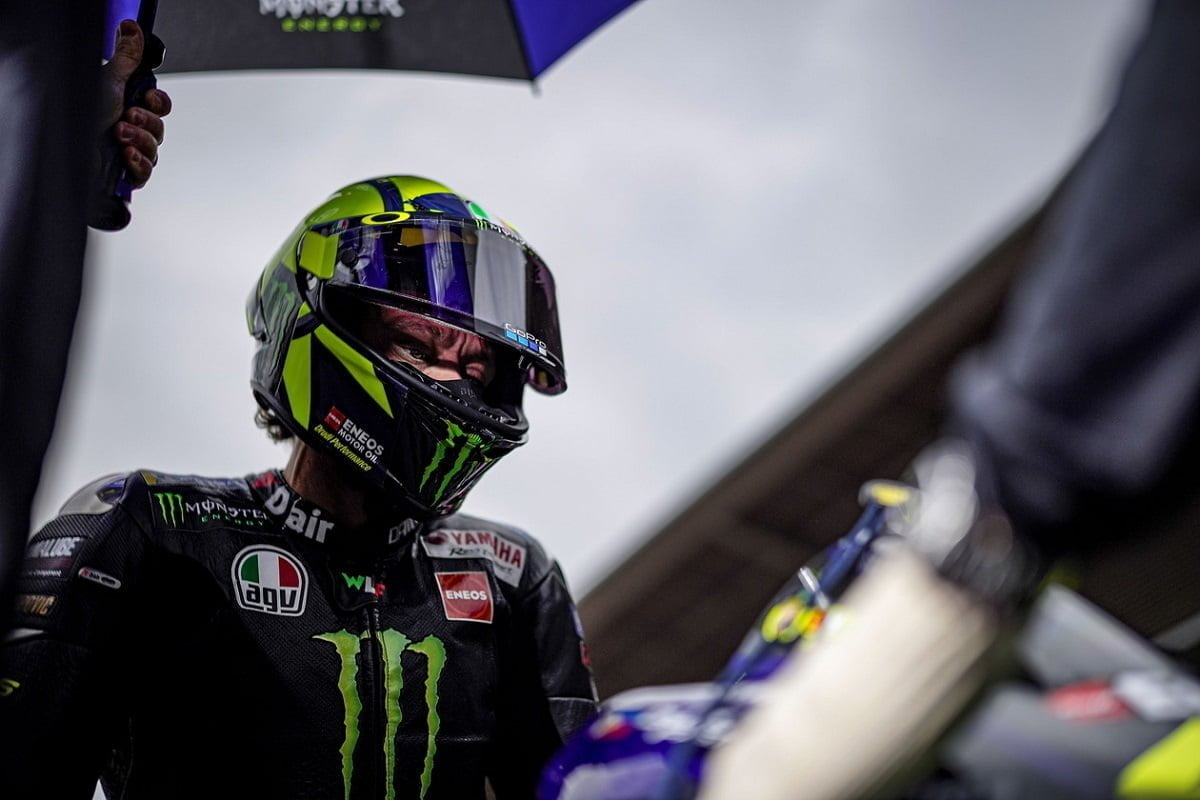 Valentino Rossi reckons his charge for an eighth premier class title is now over after crashing out of the Catalan Grand Prix from second place in the latter stages.
Rossi suffered his second-successive crash after losing the front of his Yamaha M1 at Turn 2 while chasing Fabio Quartararo for the lead of the Spanish contest, his second straight non-score dropping him to 11th in the riders standings-50 points back from leader Quartararo with six races remaining.
The Italian also low-sided out of his second home event at Misano last weekend on the opening lap into Turn 4, a race he was also expected to display potentially race-winning speed.
The factory Yamaha racer admitted that he was riding "at the limit" while trying to keep pace with Quartararo, a "mistake" that he believes has "ruled me out of the championship for sure".
"It is a great shame, two mistakes in a row have ruled me out of the championship for sure," started a crestfallen Rossi.
"This was a very different crash because at Misano, because we did something different on the bike and technically I wasn't very strong, but on Saturday and Sunday I didn't feel at 100%.
"This weekend it's different because I was competitive, I felt good on the bike and rode well and improved further practice by practice.
"Today though I was at the limit because I was behind Fabio and I didn't want to lose much time to him, and that left (Turn 2) is always dangerous and I lost the front.
"It's a great shame because I thought I could fight for the victory, definitely for the podium and that was our target."
With Rossi's title aspirations now seemingly at an end, he says a focus on securing strong results across the remaining half-a-dozen encounters is now his main motivation.
"Our speed this year is no too bad, but I have to be better in getting results," added Rossi.
"We have a lot of races left this year, so my target is to be competitive from Le Mans and to the end of the season and work well with the team to stay at the top."
Rossi remains the only Yamaha pilot yet to secure a victory this season, the Japanese marque having notched up five wins from the eight races contested this year.
His winless streak stretches all the way back to the 2017 Dutch TT, a stat that played some part in him being replaced at the factory Yamaha outfit by Quartararo.
Rossi at least was finally able to confirm an extending premier class stay ahead of qualifying for the Catalan GP on Saturday, having secured a one year agreement to takeover Frenchman's vacant berth at the Petronas SRT organisation.