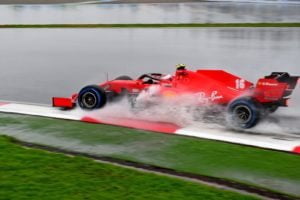 Charles Leclerc says he was "s*** when it mattered" as he slid wide on the final lap of Formula 1's Turkish Grand Prix while battling for the podium positions.
Leclerc and Ferrari made substantial strides through a rain-hit race at Istanbul Park and emerged in contention for the front-running positions.
Leclerc held third and reeled in second-placed Sergio Perez on the final lap as the Racing Point struggled for pace on worn Intermediate tyres.
Perez went wide through Turn 9, handing the spot to Leclerc, but the Ferrari driver locked up under braking for Turn 12 and ceded spots to the Mexican and to team-mate Sebastian Vettel.
Vettel immediately chastised himself on the radio on the cooldown lap, comparing his mistake to his Baku Q2 error from 2019, and rued the mishap.
"I f***** it up in the last three corners, nothing to say," lamented Leclerc in the aftermath.
"At the end, the end results count. I've been good for one part of the race but shit when it mattered. That's it. Fourth, so disappointed."
Speaking a couple of hours after the race Leclerc talked through the incident.
"In Turn 9 we were very competitive and Sergio on that lap did a mistake so in Turn 10 I tried to go round the outside but the grip was very poor," he said.
"The Racing Point with the slipstream is very quick on the straight, so he managed to be on the right side and I locked up at the end.
"To be honest looking at the data I didn't do anything crazy, the same braking point and same pressure but obviously it was more wet on the inside so it was completely my mistake and I should have anticipated that.
"I went straight, it was actually very difficult to make the corner anyway which I fortunately did."